Recent News
Group8 welcomes on board a new member to the rapidly expanding Cross-Border division.
This week Group8 is extremely excited to announce the arrival of Karen Rayment, who has joined our Resourcing Division as 'Cross-Border Lead'.
---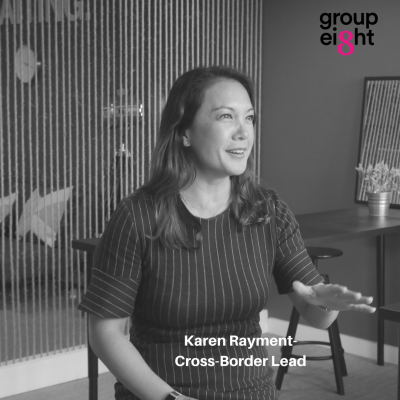 Karen's focus will be working with senior lawyers globally and facilitating their relocation or repatriation overseas to and from the EMEA and APAC regions, which we've been  successfully managing for key clients for over 15 years. 
Karen has over 20 years of experience partnering with business leaders in the professional and financial services sectors. Since 2005 she has been identifying international talent and solutions for organisations experiencing periods of change and rapid growth. Always with a focus on developing lasting relationships, she has facilitated significant career moves for senior professionals across the globe. 
Miranda Hilton, Group8 CEO comments "We are absolutely delighted to welcome someone of Karen's calibre on board. Karen's experience across change and transformation, her in-depth understanding of markets such as insurance and financial services as well as her personal experience of relocating as an expat from Australia, made her an ideal acquisition for our international resourcing division."

Karen Rayment said "Joining Group8 was an exciting proposition for me to combine the opportunity to grow an international team and work with an experienced specialist in a new but familiar market. Group8's vision to do something 'entirely different' in the legal sector which has experienced such significant change really appealed to me with my background. Group8's collaborative way of working and focus on always rethinking the norm also aligned well with how I enjoy working. I'm looking forward to contributing further to the rapid expansion and success of the business."
Karen not only brings a vast and varied wealth of knowledge to the table, but also offers a diverse perspective to the recruitment process. Understanding that cross-border moves involve not just a career, but a life move, Karen's holistic approach allows her to define and tailor recommendations aligned with each specific individual. Already working for our core clients on projects across the APAC and Middle East regions, her experience and energy will be invaluable as the team continues to grow and develop.
Group8 has sourced and worked with lawyers at all levels to facilitate overseas career moves around the world. Furthermore, the team has lived in, and understands the culture of, all the regions we help relocate lawyers to. Unlike many of our competitors, this allows our Cross-Border team to advise and support the individuals with a holistic approach, through each step of the process. Having lived around the world and acted on behalf of numerous international businesses, Karen can truly embody Group8's Cross Border philosophy. We look forward to seeing her build a highly successful career in this sector.
#welcometomyworld
Tell us a bit about your world
People, food, travel and anything adventurous. Creating a Malaysian laksa with sambal paste and doing the occasional pop up in Central London for my own passion project Motheribu!
The most memorable place you've visited?
Vietnam, love the people, the food and the scenery
What's your perfect Sunday?
Walk in the park, lunch with friends and then Netflix and chill with my wife.
What song or movie best reflects your life to date?
Unforgettable- Nat King Cole