Recent News
We're expanding. Join our team.
 If you're a resourcing professional looking to do something 'entirely different', Group8, part of one of the fastest growing resourcing portfolios in the world, are expanding. We have a number of opportunities for talented search and selection specialists and Practice Leaders for our resourcing division in London.
---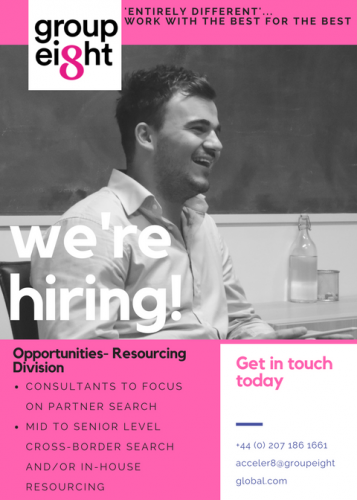 Job description
Practice Lead & Resourcing Consultants - Legal
Overview: Group8 is part of one of the world's most exciting and rapidly expanding resourcing portfolios in the world, Recruitment Entrepreneur. Being part of this portfolio allows our team members to experience all the benefits of working under a larger company umbrella led by global leaders, influencers and investors; whilst being connected to a specific industry driven growing SME. Specialising in the legal industry, Group8 is retained by leading global law firms and corporations and works in partnership with them to help navigate change and accelerate their growth.
Our resourcing division has a demonstrable track record in providing a search service of the highest calibre. We have opportunities for consultants to focus on Partner Search; Mid to senior level cross-border search and/or in-house resourcing depending on the individual's preference. With an innovative globally integrated approach, our business model is one which requires consultants who are completely solution focused and client-centric in how they operate.
Whichever part of the business you work in, you can expect to take ownership for the entire process from consulting through to sourcing and managing smooth onboarding and integration. For more experienced consultants with experience in managing a team, there are Team Lead opportunities.
With 100% track record of success on every project we have been instructed on, this is a business which is looking for the best of the best to be part of something 'entirely different'.
Specific Requirements
We have a range of opportunities at different levels. Successful individuals will need to have the following skills and attributes:
At least three years of resourcing experience gained in a law firm, corporate or in an 'agency' environment; through to senior established managerial level and capability.
An uncompromising commitment to excellence and best practice.
A desire to create connection with those you interact with and leave a positive impact.
Proven relationship management or development skills evidenced by client testimonials or a track history of repeat business.
The ability to multi-task and work to tight deadlines and be accountable.
A focus on delivering exceptional individual and client experience.
Experience or a genuine interest in the legal industry, one which is fast changing and calling out for innovative approaches.
Creative, results driven, commercial and strategic in thinking.
Self-motivated and proactive.
An ideal opportunity for ambitious, driven and creative individuals to join a fun rapidly expanding team that always prides itself on innovation, progression and collaboration.
Connect with us to find out more or for an initial exploratory and confidential discussion. We'd be delighted to welcome applications from consultants looking for a flexible and agile working environment or who may want to work part-time.