Why Rob...got the job
Group8 are delighted to welcome another new team member, Rob Sidwell, into the cross-border team of the Resourcing division, as Cross-border Associate.
---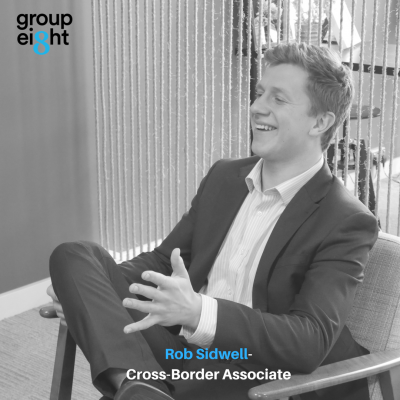 Always with a keen interest in the legal market, when undertaking his Politics and German degree, Rob interned at various law firms and legal consultancies. In 2017, he spent four weeks with Group8 during its London office set-up and decided that resourcing in the legal sector was the career path he wanted to take. 
We catch up with Rob and Miranda Hilton, CEO of Group8, to pick their brains about how Rob came to join Group8.
Why Group8?
---
My new boss
I met Miranda back in August and I knew almost immediately that she was exactly the sort of person I wanted to work for. Putting aside her hugely impressive record, she was clearly very focused on the fascinating vision for Group8 that she had created. I could see how her manner and character had helped her to develop such great relationships with clients in the past and I really wanted to be part of something that had clear direction. I thought my skills and personality were a good fit for the ambitious plans Miranda had set out for the company.
Long term building of relationships – travelling opportunities
My whole life has been about building relationships with people. Both inside and outside of my studies and work, I've had great opportunity to travel and meet amazing people from all over the world. Group8 offered me the same opportunity as part of this role in the cross-border team within the resourcing division. The chance to travel and nurture relationships with the best of the best in the legal market, whilst helping them through a period of huge professional and personal change, was incredibly appealing to me.
Legal market
Throughout Uni, I thought I was going to pursue a career in law. I had a genuine interest in not just the law itself, but in the broader commercial legal world. I wanted to work in a professional sector where I was able to help people and build real connections – Group8's positioning and approach in the legal market provided me with this opportunity.
Why Rob?
---
Rob had been referred across to me due to his keen interest in the legal sector and wanting to get some work experience with us. When I met him, he had various travel plans which meant taking him on board seemed very impractical. But after 90 minutes of chatting, Rob completely won me over - he started the following Monday!
Over a number of years in our industry, I have learned to spot the key traits which are so important for successful search consultants to have. Examples of some of these traits which Rob had in spades are:
Tenacity and resilience
Despite me thinking that his pre-booked travel schedule couldn't work for us, Rob very passionately and empathetically promoted his skills. I could immediately see that he would be very good at advocating individual and client perspectives and balancing the two agendas. He made perceived issues seem like non-issues.
Innovative
When we discussed the nature of the current market and the dynamics it was experiencing, Rob came up with smart questions and ideas about the market - that thirst for rethinking how things are done was impressive.
Authentic and real
One of the key attributes we need to have in our role is the ability to build trust. To do this you have to be yourself and open up. Rob told me about his passions, his family life and the experiences which had shaped him as a person. Knowing this made it easy for me to see how to manage and motivate him.
A lasting impression
This may sound basic, but manners also go a long way especially when you're a face for our brand. Rob was very well mannered and respectful with everyone I saw him interact with when doing a walk around the offices. He left a memorable impression with everyone he met.
There's always lessons to be learned in every hire – Rob reminded me of that. It's very easy when you've been doing this job for a while to make snap judgments – had I done that, I wouldn't have taken the time to meet Rob and I'm so glad I did. He reminded me that natural talent doesn't come with age, only experience does. I'm really excited to see Rob achieve the success I know he's destined for.
#welcometomyworld
Tell us a bit about your world
Shook hands with Beckham, slow danced with Anton du Beke, founded a dodgeball team and know every word to the 2003 rugby world cup DVD. Love a marathon in a European City and think that village cricket should be a religion.
The most memorable place you've visited?
100% Caye Caulker, an island off Belize in central America. Closest thing to paradise I've ever seen. It's also English speaking so gave my ropey Spanish a break for a few days!
What's your perfect Sunday?
Long walk in the countryside with a group of close mates, followed by a couple of ales and a big roast in a remote country pub where there's a fire and a man playing the fiddle if you've got one.
What song or movie best reflects your life to date?
Let it be- The Beatles