Where in the world...spotlight on Australia
Where in the world...spotlight on Australia
In 2023, Group8 is starting the year on a quest. A quest to find certainty in an uncertain world, shining a light on avenues open to the top echelon of legal talent to maximise their potential. No better place to start than back to our roots down under with a spotlight on Australia.
---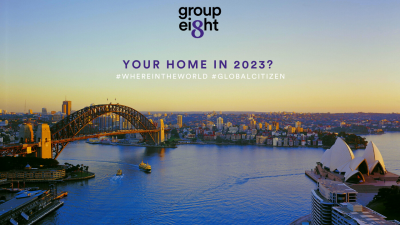 Australia's resilient economy...
Strong exports, increasing deal flows, lower costs of capital and China re-emerging from lockdown are all uniquely promising signs in light of contrasting geo-economic and political climates elsewhere in the world. Couple this with a talent gap that hasn't been filled since the pandemic leaves the burning question – if you could be anywhere else in the world is 2023 really the perfect time to return or relocate to Australia?
From coast to coast, Australia is experiencing a thriving economy as it remains a very attractive jurisdiction for investment. It is uniquely positioned on the world stage to benefit from global supply chain issues (as a net exporter) and from increasing deal volumes with capital flowing in from international funds. For lawyers, now would seem to be a smart time to return or relocate to the sunny shores of Australia. Whilst there are articles abound in the UK about leveraged finance lawyers having had their hay day, it's a contrasting story down under.
---
Legal market growth trajectory
Already blessed with world-class surf breaks, beaches, wineries and restaurants, the resilience and continued growth of the legal market in Australia is not going unnoticed, contrasting starkly with what we are seeing as a softening legal market in the UK, and to a certain extent, the US.
With cash rich investment funds and super funds from across APAC and the globe competing for fewer assets and deals, more have been snapping up Aussie companies, driving demand for legal services with many news-worthy examples, such as the $18bn bid for Origin Energy by Canada's Brookfield Asset Management and US private equity giant, EIG Global Energy Partners.
What caught our attention during the recent Australian Financial Review Infrastructure Summit in Sydney (November 2022), was the discussion on the sheer amount of 'dry powder' in the West and the deal hunting going on in Australia, which is a trend that will only continue in the country and the APAC region more broadly. The Head of Infrastructure at AustralianSuper discussed the trend and the need for his fund to actively source deals and assets even "more acutely… than probably what we were a year ago."** The market also expects to see credit and buy-out funds in the region to be hoovering up opportunities across Australia and Japan within Infra/Projects, Energy, Mining and Digital Economy. The markets are watching China closely as it loosens its Covid-19 restrictions, which could present opportunities for a further upswing in M&A activity in the market.
"Australian law firms are uniquely positioned on the world stage, and continue to prove themselves remarkably resilient in dealing with conditions at are challenging law firms across the globe."*
---
Location, Location....
With over 25 years' experience operating in the Australian market, one of the major changes we have witnessed over the last few years has been the significant expansion of offices outside of Sydney and Melbourne.
While Melbourne and Sydney remain the epicentres of banking and 'big deal making', more law firms are bucking the trend, with some very impressive infra and project finance work being led out of Brisbane and Perth. And with the 2032 Summer Olympics being held in Brisbane, this will lead to greater investment and focus in QLD. This presents even more opportunities for lawyers to be where they want to be whilst still doing great deals…
---
Australia is calling...
A country that is as diverse as it is beautiful from the ochre-red outback to the white sands of the Whitsunday Islands and the pink lakes of Western Australia, the lifestyle on offer down under is without question. 
The banking, leveraged and corporate teams across the top 10 law firms have been described by senior partners as, 'flat out' in the run up to Christmas 2022 and the volume has not let up.
For banking, projects and corporate lawyers, the expansion in the infrastructure, energy and digital economy sectors is driving consistent M&A deal volume (mainly mid-market cross-border). This makes the move or relocation 'home' all the more appealing with progressive opportunities emanating from a legal market which is under-resourced and in high demand. Australia won't be immune from world shocks, with more ripples to come, but as we saw in 2008/2009 it's likely to be significantly more resilient than many other global markets.
And if you're a senior lawyer looking for more than just steady flow of quality work, what about the path to partnership? Our prediction is the next generation ranks will fill up this year. 2023 presents a unique point in time where acquisition appetite, confidence and predicted demand for legal services are high and colliding. When taken as a whole, the APAC region offers promise and an opportunity to shape the necessary business case for a successful future career.
"Buy now, start later" - certain savvy law firms will offer high levels of flexibility to secure the right talent in terms of the lead time to start date, demonstrating confidence in the future market. That 'between roles' travel break you're lusting after? Entirely possible.
So, in summary, for those lawyers wanting to make a progressive move overseas in 2023 – Australia scores high on every front but wait until 2024, and it may be a different story….in the words of Crowded House, 'that's why I tell you, you better be home soon.'
#lawyers #lawyersoflinkedin #lawpractice #thegreatmigration #globalcitizen
---
James Mills | Lead Consultant - International Legal Division at Group8 Global
Contact me to learn more and to receive a copy of our Australia Legal Market Report. Email: james@groupeightglobal.com
Sources
*2022 Australia: State of the Legal Market, available here via Thomson Reuters
**Nik Kemp as reported in the Fin Review Infrastructure Summit, November 2022, Hilton Hotel, Sydney https://live.afr.com/infrastructure/