8 questions with Victor
Victor is the latest to join the Group8 team and we wanted to know how he was adjusting to life in his new role and in the Recruitment Entrepreneur environment generally. 
---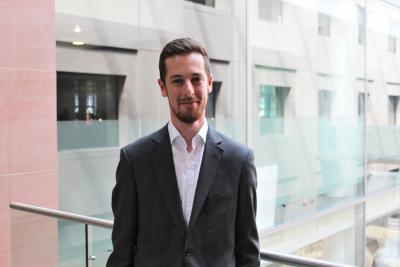 Group8 have been extremely lucky to welcome into their ranks Victor Brown-Villedieu, who joins the continually expanding team as Operations Executive.
In a conversation this week with Victor, we picked his brains about the factors that drew him to the opportunity at Group8 and what life in the Recruitment Entrepreneur environment is like on a day to day basis.
1. So, Victor, what led to you searching for new opportunities and greener pastures?
I was previously working at the Financial Conduct Authority as a Data Analyst on their graduate programme and while the work was interesting, my impact always felt limited. Coupled with that was a feeling of never fully utilising my skillset, so I was keen to find a role that provided the scope for me to see my ideas right the way through from inception to implementation.
2. How do other roles you have had compare to your new role at Group8?
The work here at Group8 has been far more wide-ranging than what was available in my previous roles. No two days at Group8 are the same, whereas my old jobs offered little in the way of variety. The impact of my actions is also more tangible here as I am able to see the fruits of my labour, which makes completing every task, no matter how big or small, a lot more rewarding.
3. Does Group8 operate differently to other businesses you have worked for in the past?
The fact that Group8 is a start-up offers its own unique challenges and opportunities, the most obvious being that as it's a newer company, I'm adding value to the development of the company every day. There are less restrictions as we are all growing together with the company.
4.  Has it been a challenge maintaining the global scale and scope of Group8's client base?
As many of Group8's clients have offices in other parts of the world it is an added challenge to maintain a consistent level of contact and ensure relationships are nurtured in the right way. From an internal perspective, as Group8 looks to develop its overseas offices the challenge will be to ensure that we replicate the blueprint of our London office as efficiently as possible.
5. Was there anything in particular that made Group8 stand out from the crowd?
I'd be lying if I said I didn't have a preconceived idea of what a typical recruitment agency looked like but after researching Group8 I was very pleasantly surprised to read about the approach they take to the process of placing candidates. My discussions with Miranda and Karen prior to joining further cemented things for me as I could tell they were people with honesty and integrity.
6. How has working under the Recruitment Entrepreneur portfolio been since joining?
Working in an office where multiple companies are operating separately, albeit within the same portfolio, is not something I have experienced before but I have really enjoyed the atmosphere. You have a chance to collaborate with people who can offer an alternative viewpoint that you may not have considered.
7. What are the benefits of encountering other like-minded individuals and businesses in the RE office space?
Having other businesses operating in the same physical space who are either on the same journey as a start-up themselves or one that has gone through a similar process before is great from the perspective of idea-sharing. The unique thing about working in an office such as RE's is that if you have a burning question that no one within Group8 knows, you just have to walk across the floor and ask someone from one of the other businesses. This puts Group8 at an immediate advantage over our competition who may be limited by the fact they are working in isolation.
8. Have you enjoyed the culture implemented in the office?
The atmosphere in the office is very relaxed, though never to the extent that it stops us from getting our work done. Everyone within Group8 is very friendly and supportive and knowing your contribution is truly valued makes coming to work a pleasure rather than a chore.
Why Victor? In the words of Miranda Hilton!
Having started up a couple of businesses both in the online retail and legal search sectors, the one thing I have learned is that the key to sustainable success and creating a cohesive culture, is having a sophisticated operations team. So often the focus is on revenue generation, but if you don't have efficient systems, processes and someone who has an overarching view on everything happening in the business, it won't work.
Naturally as consultants we are all client focused but you need someone who is focused on the internal machinations too. Too often there is an uncomfortable divide between ops and 'sales'  - our approach is one which is fully integrated, no hierarchy and a belief that the next best idea can come from anyone in the team.
Victor's background,  but more his attitude and highly organised approach, made him the perfect individual for us as our foundation operations head. He will oversee the company grow from an idea to hopefully the leading legal search business of choice in the market. We are trying to do things differently and Victor approaches everything we do with fresh eyes, questions, an analytical mindset and comes up with solutions which make sense for Group8
Making yourself indispensable to an organisation within a quick period of time is something he should consult on! It's only been 2 months, but if Victor even contemplated leaving, I'd hunt him down and kidnap him!
#welcometomyworld
Tell us a bit about your world
I'm big into motorsport and have been to several F1 races as well as the 24 hours of Le Mans last year. I also used to race my own go-kart when I was younger (and fitter!) and I still hold ambitions of getting back into it, money permitting. Otherwise, I love travelling to new places and going to the cinema to watch some quirky European film that no-one else has heard of.
The most memorable place you've visited?
It's a toss-up between Yosemite National Park and New York but Yosemite probably edges it purely based on its unrivalled natural beauty. It's probably the only time I've genuinely been left speechless by a place I've visited.
What's your perfect Sunday?
Jumping on the train or in the car with my girlfriend and heading to a totally random place in the English countryside to explore and have lunch in a local pub.
What song or movie best reflects your life to date?
Goodfellas. Not really, but it's a great film all the same!