An entirely different training day
An entirely different training day
Group8 and a selection of other Recruitment Entrepreneur portfolio businesses were put through their paces by ex-elite military soldiers and ex-Scotland yard negotiators, in a day packed full of surprises from the get-go. 
---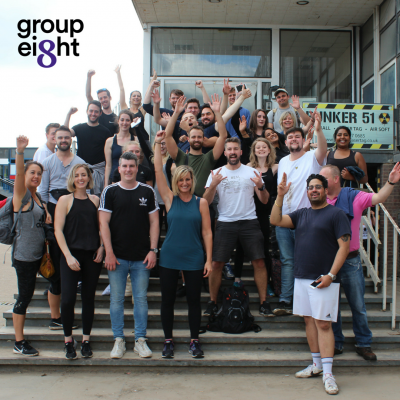 Training can often be a long-drawn-out process that fills attendees with an unerring sense of trepidation…after all, people tend to think they've seen and heard it all before. Wednesday morning broke that mould as Group8 and a selection of other Recruitment Entrepreneur portfolio businesses including GKR, Beeken Reeves and Bow Resources, took to the battlefield for a completely unexpected and high-octane day filled with terrorist negotiation tactics, hostage rescues and even the odd bullet wound!
There was an air of the unknown as we waited outside the 'bunker' venue in our sports gear. The only information provided was that the day would be run by SGH Global Solutions and would be delivered by ex-elite military soldiers and ex-Scotland yard negotiators.  We were faced with a constant torrent of unpredictable challenges which came thick and fast right through until the last shot was fired, and hostages were successfully rescued, after what felt like 15 minutes such was the intensity of the day.
What did we learn? Well a lot more than just how to nurse a good, old-fashioned bruise (Airsoft bullets pack a punch!!). Whilst the plot and negotiation aspects of the training revolved around a fictional mission and characters, the situations we were put in felt incredibly real, largely due to the brilliant way the day was structured by the highly experienced team who have clearly dealt with the real thing throughout their career. We were forced to react rapidly under pressure to the constantly changing circumstances throughout the day.  Meticulous research, planning, communication, team and negotiation skills were the focus with a bit of memory testing thrown in for good measure. From the offset it was clear to see how what we were doing during each task relates to what we do on a day to day basis– the stakes may not be as high (life or death) but in dealing with people's careers, we are entrusted with highly significant moments in people's lives.
The nature of the day ensured that every tip, suggestion and pointer delivered by our mentors struck a chord and remain embedded in our collective memory. It also encouraged teamwork and built camaraderie. Whilst the different companies under the Recruitment Entrepreneur umbrella share an office space, we don't necessarily get a chance to collaborate outside of the occasional chat at the coffee machine. The objectives of the day required cooperation and unity to get the job done and by the end of only one day, it felt like the portfolio had become a whole lot closer.
All in all, it wasn't your conventional 'training day' by any stretch of the imagination but we have never experienced anything quite like it and the lasting impressions and lessons which can be learned from the elite ex-military will stick with us and help us be the 'best of the best'.  We now only hope there will be more opportunities to learn from them.